Primoridial Medicine Within™
PMW is the medicine
that was built into our body
when we were born.
It is a gift from the creator.
It is preinstalled into every cell
in the body.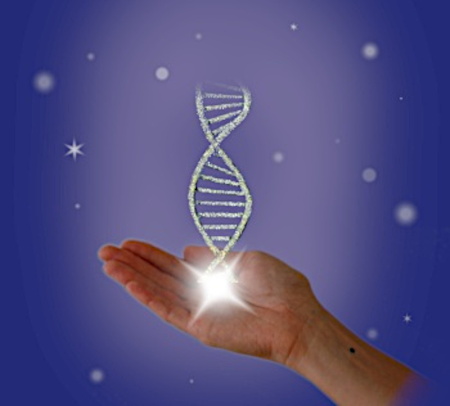 Primordial Medicine Within™ (PMW) works by waking up specific signals inside the DNA of our body's cells. The signals which get turned on are the ones which have the ability to instruct the body to heal. Once activated, the signals are then directed to the parts of the body that need help.
These signals are the original medicine built into the body. This medicine is common to all life. It was there when life began, and it still runs through every living thing on this planet.
You have this medicine inside you. I have this medicine inside me. We all have this medicine.
Many people ask 'why doesn't my body heal automatically if I have this function in me?' This is a great question. And sometimes we do heal. Even when it seems there is no possible way to get better, we defy the odds. We defy the experts. We recover. And we live on.
And to answer the question above a little more thoroughly...  even though we have this powerful medicine in us, it is not necessarily in an active state. Many times we have turned it off through lack of need. Modern scientific discoveries have had a profound impact on how we heal ourselves. Modern medicine has provided us with a plethora of very effective remedies which are at our immediate disposal. We have more and more turned toward modern remedies, and away from our inborn, internal medicines. Because of this, many of our more basic healing functions have turned themselves off. The phrase 'Use it. or Lose it' applies very well here. In turning away from internal remedies we have seemingly lost connection to them. Our body has placed them into a type of hibernation. The good news is, "lost" does not mean "gone". Each of us was born with the ability to heal ourselves. This function is in every person on the planet. The Programs in PMW are designed to wake up and activate this function. They turn on our internal medicine and reconnect us to our inborn, internal healing abilities. When we do PMW we experience 'self-healing'. We are reminded of who we really are.
PMW is not about abandoning, or turning away from modern medicines or modern medical practices. PMW is for those times when all other options have been tried. All the doctors and healers have been seen. All the medicines and remedies have been taken. And more help is still needed. This is when PMW works especially well.
Most the PMW Programs are delivered over three or four separate Classes (depending on the Program). The Classes are offered both in-person and online (via Zoom) depending on the Program. Some Programs are offered in a mini-workshop, group setting. Others are done in private sessions.
After completing a class series you will have learned and integrated a profound protocol for achieving and maintaining optimum health. PMW is not a 'quick fix'. Results do show up quite quickly most of the time, but its true gift is in showing you your power. Connecting you to the medicine inside that you've always had, and teaching you how to turn it on. You'll learn to use this medicine to heal yourself. Once learned, you'll carry this with you for the rest of your life.
You can learn more about PMW at a Free Intro.
Intros are delivered online via Zoom.
PMW Programs
PMW Strengthen Pelvic Floor
A strong, healthy Pelvic Floor promotes Anti-Aging.
The Pelvic Floor can be considered the physical and energetic foundation for the whole torso.
When the tissues, muscles, bones, and glands located in the Pelvic Floor are strong and healthy this vitality radiates up into the entire torso/whole body. It enlivens all the organs and tissues. All functions improve. When the Pelvic Floor is weak, a general weakness extends up into the whole system, adversely affecting all bodily functions. Premature aging can many times be directly linked to weakness in the Pelvic Floor.
PMW Pelvic Floor is much more than just an exercise Program designed to strengthen weak muscles in this area of the body.
This Program incorporates ancient Taoist forms designed to balance and enliven the hormones. The hormones most affected are the ones produced by the reproductive system, which of course is located in the pelvic region. Improving the balance and strength of the hormones which are responsible for creation can have many benefits on the body, the mind and the energy. These forms have been referred to as true Taoist alchemy.
Problems that can improve as the Pelvic Floor becomes more enlivened and stronger include:
Leaky pee
Fecal incontinence
Prolapsed organs/tissue
Urinary dysfunction
Erectile dysfunction, prostatitis (in men)
Low back problems
Frequent urge to urinate
Constipation
Low energy
Increased UTI
Painful sex (women)
Vaginal dryness
Anal fissures
and more...
The PMW Strengthen Pelvic Floor Program is set up to be delivered in a mini workshop format. It consists of four(4) classes, each lasting 90 - 120 minutes. There is ample time to learn and review the practice, as well as take notes, ask questions, and chat with fellow students.
The forms and movements in this Program are not difficult, and with a little practice they get easier and easier.
The classes are offered In-Person, as well as Online.
Maximum attendees for In-Person is six (6). Online is capped at three (3).
Current cost for this Program is $695.
PMW Strengthen Pelvic Floor Workshops
Online
Men's Pelvic Floor Workshop - September 27 - November 1     FULL
Men's Pelvic Floor Workshop - Oct 7, 14, 21, Nov 11 - 12:00 noon - 2:00pm CST    1 Spot Open
Sign up/Payment  - https://square.link/u/zpRDdjL6
Women's Pelvic Floor Workshop - November 2023
In-Person
Men and Women Pelvic Floor Workshop - Oct 15, 22, 29, Nov 12  -  1:00pm - 3:00pm
Sign up/Payment  - https://square.link/u/g1HuDyOX
PMW Breast Health
Prevention and Prevent Reoccurrence
Healthy breasts now, and for a lifetime
PMW Breast Health is a Prevention Program.
This Program includes powerful breath techniques for creating a cancer free internal environment. Plus potent mental methods for removing the 'signal of cancer' from your body today, and for the rest of your life. There are also gentle exercises, forms and movements which have been specifically designed to increase circulation throughout the entire chest, especially the breasts.

The Program is very well suited for those who have gone through breast cancer, and are now on the road to recovery. The techniques and exercises in this Program are powerful routines designed and created for the purpose of helping you avoid recurrence, and stay cancer free. 

It is also a very effective Prevention Program for anyone who wants to avoid cancer in the first place. This Program can help you keep your breast healthy for the rest of your life.
For many years it has been recognized that women in the Far East do not suffer with Breast Cancer as much as women in the West. It is believed that the soft, gentle type movements done in some Tai Chi practices is one of the key factors in helping Eastern women to stay healthy. Less susceptible to breast cancer. These practices have been popular in the East for a long time. Many women in that part of the world do these kinds of exercises on a very regular basis. 
PMW Breast Health contains a number of exercises which are both powerful in their effects, and gentle in movements. These exercises improve circulation of both the blood and energy in the chest and breasts. There are also Qi Gong breath techniques which help to increase the alkalinity in the body. Specifically in the breasts. In addition to exercise, and breath work, PMW Breast Health also includes meditations and powerful mental techniques for helping to reduce stress, and balance the hormones. Balanced hormone levels are a must for maintaining healthy breasts. Plus you'll receive practical information regarding what substances in our world are best avoided, such as chemicals, pesticides, radiation etc.
PMW Breast Health is taught as a mini-workshop, in a four (4) class series. Each class is 90 - 120 minutes in length. There is ample time in each class to learn and review the practice, as well as take notes, ask questions, and chat with fellow students.
The next class series will begin in the Fall of 2023. We hope to have a date set very soon.
This will be an in-person class series.
Maximum attendees is eight (8).
Current cost for this Program is $695.
PMW Strong Healthy Kidneys
Kidney Function can improve.
Chronic Kidney Disease (CKD) is very prevalent in the USA. It is estimated that 1 in 7 adults (approximately 10%) have this problem. Many people have it, and don't know they have it.
Signs of kidneys that may not be functioning as well as they could be:
Bubbles in water after urination – especially in morning
Urine production reduced
Ammonia taste in mouth
Ammonia smell coming off the body
Very low energy – especially weak legs
Nausea without reason / low appetite
Swollen feet
Swollen face around the eyes
Cold feet
Frequent urination
PMW Strong Healthy Kidneys is for people who have Chronic Kidney Disease. It is also very helpful for people who have not been diagnosed with CKD, but have weakened kidney function, regardless of the cause.
Many people have reduced kidney function and are not aware of it. It is common for kidney function to grow weaker as we age. Some people in their 40's may already be experiencing slightly weaker function. People over 50 can many times have weaker function, and most people over 60 will show some signs of reduced function.
Blood work that focuses on the kidneys can be helpful when you are wanting to have a more scientific method of determining how well your kidneys are functioning. Your healthcare practitioner can help you with this.
PMW Strong Healthy Kidneys is a very effective Program for almost any stage of kidney weakness. Even when kidney function has already reached a very low stage, the meditations and movements taught in PMW Strong Healthy Kidneys can help. This Program works at a very fundamental level, encouraging the body to release the specific toxins and stresses which are contributing to the weakness in the kidneys. The Program also encourages the kidneys to grow strong again.
The PMW Strong Healthy Kidneys Program consists of four(4) Classes, lasting 75 - 90 minutes.
This Program is taught privately.
The classes can be taught in-person or online (Zoom).
Maximum attendees is one (1).
Current cost for this Program is $795.
PMW Anxiety/Stress Relief
You don't have to live with the fear of another Panic Attack.
Chronic Stress?
Anxiety attacks?
OCD (Obsessive Compulsive Disorder)?
PMW Anxiety/Stress Relief is most effective for the relief of extreme Stress and Anxiety. Especially for those people who feel they have nowhere else to turn. They have gone through all the other remedies, and still find themselves suffering.
Stress and anxiety can be set up in our system in a number of different ways, with many different angles. Linear solutions can work, but many times don't. PMW Anxiety/Stress Relief includes a number of different forms and meditations. Each of these address the problem from a different angle/perspective. The idea is to go through the entire Program, find which Forms work the best for you. Then practice these Forms to reduce your symptoms. Sometimes several Forms are helpful, with one or two usually being the most beneficial. The helpful forms become your remedy, and with practice grow more and more effective.
Addressing the problem of Stress and Anxiety in this way is very much like having a personalized remedy tailored just for you. At least that is how it can feel.
The Program is effective for Stress and Anxiety that's been around for a while. It's also effective for any stress and anxiety that has recently shown up.
The PMW Stress/Anxiety Relief Program consists of three(3) Classes, lasting 75 - 90 minutes.
This Program is taught privately and in a group.
The next group classes will be offered in the Fall of 2023.
The classes may be taught in-person, and online (Zoom).
Maximum attendees is eight (8).
Current cost for this Program is $595.
PMW Pain Relief
You don't have to live in chronic pain.
Back pain?

Neck pain?

Shoulder pain?

Tooth pain?

Cancer related pain?

etc etc etc
PMW Pain Relief is effective for the relief of most pains where there is inflammation and heat. Including chronic joint and muscle pains, pain from physical injury, and pain associated with cancer, and more.
The Program is effective for chronic pain that's been around for a while. It's also effective for new pain that just occurred due to an injury or accident, or something else.
As with all PMW Programs this program uses a series of meditations which guide and direct specific energetic signals from nature into, and through the body. These signals are very effective at reducing both inflammation and pain. The meditations are not complicated. The beneficial effects can many times be felt immediately. Most everyone will experience some relief within a few run throughs. Depending on the type of pain, the degree of relief can range anywhere from partial to complete in the beginning. As a person becomes more experienced in using this Program, they are very likely to have an increase in the effectiveness of their pain reduction. 
The effects of this Program seem to be somewhat similar to those of aspirin for some people. More than one person has commented on how they feel like they have their own personal bottle of pain killer. Available to them anytime, and anywhere.
The PMW Pain Relief Program consists of three(3) Classes, lasting 75 - 90 minutes.
This Program is taught privately.
The classes can be taught in-person or online (Zoom).
Maximum attendees is one (1).
Current cost for this Program is $595.
---
Some of the other PMW Programs include: PMW Allergy Relief, PMW Chemo Relief, PMW RadioTherapy Relief, PMW Leukemia Relief, PMW Parkinson's Relief, PMW Insomnia Relief, PMW Hernia Relief and more coming...
For more information about any of our PMW Programs:
Call/text me at: 512-537-3365 (text and vm only number) if you want to speak with me let me know in the text. I will call you back on my cell phone.
Or Email me here